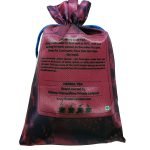 Herbal Tea
CHAIOM Herbal Tea, 20 Pyramid Tea Bags
Description
This is a Vegetarian Product.
Not just any other tea, this is a herbal medicine that has been specially put together by in-house experts. Its consumption early in the morning gives a boost to our metabolic rate without an onslaught of harmful acids in the stomach.
It is a simple and handy alternative to all the herbal concoctions that are time-consuming and take a lot of effort to put together. The tea is good to be consumed by people of any age with any medical condition. It is completely safe for those experiencing acid reflux and mood swings due to the caffeine found in various green teas, regular tea, and coffee. With a combination of fine herbs, spices this tea is a perfect sip to ease out your appetite after heavy meals.