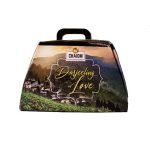 Darjeeling Love
₹1,200.00
Description
Darjeeling Love –
Black Masala Tea – Masala Tea has high antioxidant properties. Since it consists of several spices, it helps older adults fight against diseases like cold, cough, cancer, cholesterol, and control blood pressure and heart rate.
Orthodox Tea – Orthodox tea refers to loose-leaf tea that is produced using traditional (or orthodox) methods of tea production, which involve plucking, withering, rolling, oxidation/fermentation and drying.
---
Only logged in customers who have purchased this product may leave a review.