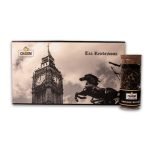 Tea Rendezbous 4 In 1 Tea Flavor Gift Box
Tea Rendezbous 4 In 1 Tea Flavor Gift Box
₹1,800.00
₹1,800.00
Description
Tea Rendezbous 4 In 1 Tea Flavor Gift Box
Green Tea – Green tea is made from the Camellia sinensis plant. Its dried leaves and leaf buds are used to make several different teas, including black and oolong teas. Green tea is prepared by steaming and pan-frying the Camellia sinensis leaves and then drying them.
Black Tea – Black tea is rich in antioxidants that may provide benefits including improved heart and gut health, lowered "bad" LDL cholesterol, blood pressure, and blood sugar levels. Aside from water, black tea is one of the most consumed beverages in the world.
White Tea – White tea is packed with antioxidants, which makes it an incredibly healthy tea. Studies have linked white tea and its components to a variety of impressive health benefits, including a lower risk of heart disease and cancer. It may also help you lose weight.
Oolong Tea – oolong tea stimulates fat burning and increases the number of calories your body burns by up to 3.4%. Oolong tea is high in an amino acid called L-theanine, which studies show has cognitive effects like improved brain activity, better sleep quality, and reduced stress and anxiety .
---
Only logged in customers who have purchased this product may leave a review.